Rep. Albert leads efforts to invest in West Michigan projects and parks
Several West Michigan developments will benefit from the new state budget and a separate investment in community parks, Rep. Thomas Albert said today.
"West Michigan is a fantastic place to live, and these investments will make our communities even better – from revitalizing downtown Grand Rapids to eliminating blight and improving parks," said Albert, chair of the House Appropriations Committee and a leader in development of the state budget.
The investments include:
Grand Rapids amphitheater: A $30 million investment will help develop a proposed downtown riverfront facility. Albert said the amphitheater will be catalyst for growth in the city and the region as a whole.  (House Bill 5783, signed into law today)
Former prison site demolition in Ionia: HB 5783 also allocates $20 million to tear down and help remediate the former Riverside Correctional Facility in Ionia, part of an effort to eliminate blight across the state. Earlier this year, Albert helped secure funding to demolish the former Deerfield Correctional Facility in Ionia.
Lightning Bend Trailhead in Belding: A $300,000 investment from the Natural Resources Trust Fund will help develop a trailhead and pathways in the preserve that includes forests and ridges overlooking the Flat River. (Senate Bill 1028, signed into law earlier this week).
Fred Thwaites Trail in Ionia: The Natural Resources Trust Fund measure includes $300,000 to renovate 3.2 miles of the trail along the Grand River from the Ionia Free Fair grounds to Quarry Road. (SB 1028)
River Valley Rail-Trail in Lowell: The NRTF measure also includes $300,000 to develop a 2.1-mile trail to connect the Fred Meijer River Valley Rail-Trail through the city, including a pedestrian bridge across the Grand River. (SB 1028)
(Note: Rep. Albert's statement on the overall general state budget is available here)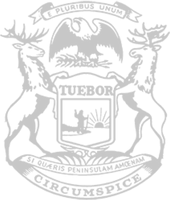 © 2009 - 2023 Michigan House Republicans. All Rights Reserved.
This site is protected by reCAPTCHA and the Google Privacy Policy and Terms of Service apply.