Chair Albert: New K-12 budget supports special education, school safety
Michigan House Appropriations Committee Chair Thomas Albert issued the following statement after the governor signed Senate Bill 845, the school aid budget for the 2022-23 fiscal year:
"It's no secret that many students across our state still have a long way to go to catch up on learning lost during the pandemic. This budget is a historic investment that will help our children succeed today and well into the future.
"We are making investments that will help all students. Michigan has underfunded special education for years, and this new budget is an important step toward making things right.
"We are committing more resources to keep students safe and support their mental health. We are doing more to recruit teachers and support their important efforts in classrooms across Michigan. And we are doing all of this without passing along massive debt to our children and grandchildren."
Note: The school aid budget includes a record-high $9,150 per student foundation allowance, adds $246 million in reimbursements to help districts improve special education, and includes about $1.73 billion to reduce debt and make K-12 and university employee retirement systems more sustainable.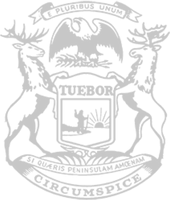 © 2009 - 2023 Michigan House Republicans. All Rights Reserved.
This site is protected by reCAPTCHA and the Google Privacy Policy and Terms of Service apply.