Rep. Neyer: Budget spends recklessly, doesn't address taxpayer priorities
State Rep. Jerry Neyer today criticized a signed budget for the upcoming fiscal year that threatens Michigan families with tax increases and spends ineffectively.
The budget spends nearly $82 billion to grow government and take care of special projects instead of addressing issues people across the state are facing. While House Republicans put forth common-sense amendments during the budget process that emphasized local road repairs and public safety initiatives, those priorities were ignored in favor of a budget that sets aside dollars to hire more than 1,000 new bureaucrats.
The budget can only be balanced if the new 4.05% income tax rate is raised back to 4.25% next year. The tax hike has been incorporated into the bloated spending plan after Neyer and House Republicans fought to guarantee a tax reduction earlier this year.
"Cost increases have forced people throughout mid-Michigan to be mindful of their own finances, but government continues to spend without a care in the world," said Neyer, of Shepherd. "This is reckless, unsustainable spending that will lead to tax increases at a time when people can least afford it. We needed to focus on what workers and families throughout Michigan need – not what radical national agendas demand."
The budget also puts taxpayers on the hook for a new, partisan population commission, which is expected to recommend tax increases to balance spending and give political cover to pass them. It devotes tens of millions of dollars to climate-related measures that work to satisfy a national agenda instead of the needs of Michigan residents and spends on community pools, cricket fields, opera houses, sand dune maps, horseback riding lessons for children in Detroit, and other pet projects with little transparency or oversight.
Neyer stressed what the budget misses in terms of providing taxpayers a good return on their investment. The budget includes no additional funding for local roads drivers use every day throughout the state, despite Republican calls for a $1 billion investment in local roads. Democrats included just $80 million for local bridge repairs – far short of the $2 billion that is estimated to be needed to fix bridges in the state. 
Republicans also advocated for $100 million in grants in the budget to ramp up public safety – increasing recruitment and retention ability for local police departments and county sheriff's offices while also helping them upgrade technology. But the proposed amendment to deliver this funding was not incorporated into the final budget. 
"People I talk with throughout our region want to drive on good roads when they're taking their kids to school or out running errands and they want to raise their families in safe neighborhoods," Neyer said. "This budget fails to invest in local infrastructure and public safety – and the money has been there to make those critical investments.
"Democrats have already exhausted a near $10 billion surplus from the start of the year, and now they're relying on more money from taxpayers for a record and inefficient spending spree."
The new fiscal year begins Oct. 1.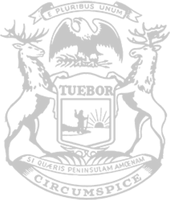 © 2009 - 2023 Michigan House Republicans. All Rights Reserved.
This site is protected by reCAPTCHA and the Google Privacy Policy and Terms of Service apply.