Rep. Mueller: New office is open, ready to serve people of 72nd House District
Mueller to serve on four key House committees during 2023-24 term
State Rep. Mike Mueller's new office is open and ready to assist people in Genesee, Livingston and Oakland counties.
Mueller, R-Linden, said his office is now located at N-1091 in the Anderson House Office Building, across the street from the state Capitol. Constituents can contact the office at (517) 373-0840. He will continue to receive email at MikeMueller@house.mi.gov. Mail should be addressed to Rep. Mueller at N-1091 House Office Building, P.O. Box 30014, Lansing, MI 48909.
"I enjoy hearing input from the people I serve. It helps me ensure I am representing their interests when I go to Lansing," Mueller said. "Anyone who has questions about state government can also get guidance from my office. I have a great team that backs me up, and we're always happy to help."
Mueller's office location and phone number changed because he now represents the 72nd House District following the redistricting process that created new legislative districts for the next decade. The 72nd District spans Fenton, Fenton Township, Linden, and portions of Grand Blanc and Mundy townships in Genesee County. It also includes the village of Holly and the townships of Holly and Rose in Oakland County and Livingston County's Tyrone Township.
During the 2023-24 legislative session, Mueller will serve as vice chair of the House's Regulatory Reform Committee, which focuses on occupational licensing and various other regulatory topics. He will also serve on the Criminal Justice, Health Policy and Labor committees.
"Each of these policy areas affect the daily lives of people in our area," Mueller said. "I'm looking forward to making sure our community values are represented in the work we do in these committees and beyond."
###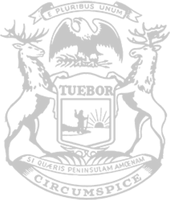 © 2009 - 2023 Michigan House Republicans. All Rights Reserved.
This site is protected by reCAPTCHA and the Google Privacy Policy and Terms of Service apply.